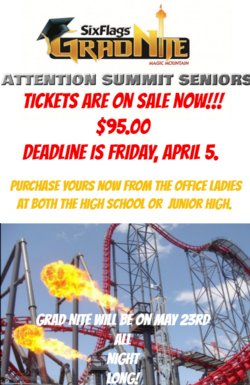 What

Six Flags- Grad Nite

When

5/23/2019

Where

26101 Magic Mountain Pkwy, Valencia, CA 91355
2018-2019 Seniors will attend Grad Nite. Tickets are on sale now in the front office for $95.00 each, sales will end on Friday, April 5 from 7:00 PM- 6:30 AM, and are nonrefundable. This opportunity also includes Independent Study students.

Please contact megan.worsham@slahd.com for further details.